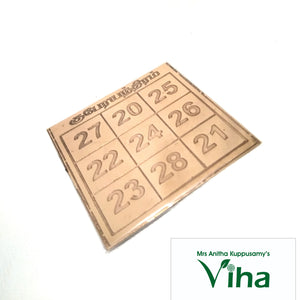 Explore the transformative energy of Kubera Yantra, a powerful tool for attracting wealth and prosperity into your life. This sacred yantra is dedicated to Lord Kuberar, the presiding deity of wealth and abundance.
Key Features:
Manifest Wealth: Kubera Yantra is specifically designed to enhance the flow of wealth and prosperity in your life. By worshiping this yantra with devotion and following the prescribed rituals, you can invite positive vibrations and attract abundance into your life.

Draw New Avenues of Income: The Kubera Yantra acts as a magnet, drawing new opportunities and sources of income. It opens doors to financial growth and helps you explore untapped avenues for generating wealth.

Increase Cash Flow: By placing the Kubera Yantra in your pooja room, cash box, or office where financial transactions are made, you can increase the flow of funds and enhance your financial stability. It infuses positive energy into your financial dealings and promotes monetary growth.

Accumulate Wealth: The Kubera Yantra empowers you with the ability to accumulate wealth over time. It enhances your financial management skills and attracts favorable circumstances for long-term prosperity.

Divine Blessings: By invoking the blessings of Lord Kuberar through the Kubera Yantra, you can experience divine grace in your financial matters. It creates a sacred space for spiritual abundance and aligns you with the energy of prosperity.
Invite Prosperity with Kubera Yantra: Embrace the power of Kubera Yantra from Viha Online and unlock the doors to wealth and prosperity. Place it in your sacred space, perform regular rituals, and witness the transformative energy that attracts financial abundance into your life. Shop now and invite the blessings of Lord Kuberar.
Size     :  2 x 2 Inc
Weight :  9 gm
lakshmi kubera yantra | kubera yantra | kuberar yantra | kuber yantra | lakshmi kuberar yantra | kuberar | kubera | kuber | kubera statue
Kubera yentra
🥰very nice product thank u viha😍🤩
good quality
recently bought this one...love ur all products
Kubera yanthiram
Super very nice packing was very perfect thank you