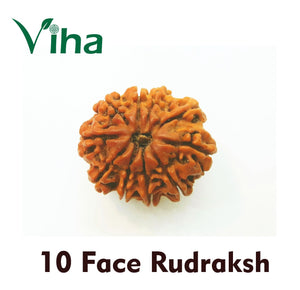 Wear 10 Face Rudraksha and Get blessings for God Krishna.
The 10 Face Rudraksha at Viha Online protects you from the negative effects of planets and other negative energies affecting your growth.

Also, the rudraksha helps individuals to overcome difficult times, problems, hardships and get success in life.

It seems that the 10 Face Rudraksha holds the energy of 10 directions, as it symbolizes Lord Krishna, the 8th avatar of Lord Narayana. Hence, the divine  10 Face Rudraksha at Viha Online is believed to shield individuals from negative energy and drive them to the path of success.

The 10 face Rudraksha has the divine powers that brings joy, love and passion in life.
Note : 1 Face Rudraksha is available with lab tested certificate at Viha.online