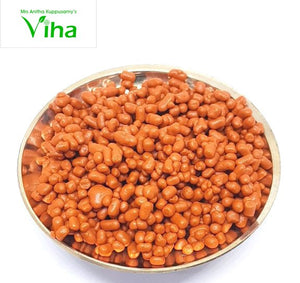 Step into the realm of divinity with Ashtagandha Chandhana Thilagam. This fragrant mixture holds deep spiritual significance and is cherished by devotees worldwide.
Key Features:
1. Sacred Fragrance: Ashtagandha Chandhana Thilagam is a unique blend of eight aromatic substances, carefully combined to create a captivating fragrance. Each ingredient contributes to the divine aura and creates a serene atmosphere during rituals and prayers. The alluring scent invokes a sense of peace, devotion, and spiritual connection.
2. Spiritual Significance: Ashtagandha Chandhana Thilagam holds great importance in various religious practices and ceremonies. It is commonly used in Hindu rituals to mark the forehead as a sacred tilak or bindi. The blend is believed to purify the body, mind, and soul, creating a harmonious environment for spiritual pursuits.
3. Premium Quality: Viha Online takes pride in offering the finest quality Ashtagandha Chandhana Thilagam. Our blend is made from authentic ingredients, meticulously sourced and carefully processed to ensure purity and authenticity. With every application, experience the essence of traditional craftsmanship and spiritual devotion.
4. Versatile Use: Ashtagandha Chandhana Thilagam can be used in various ways to enhance your spiritual practices. Apply a small amount on the forehead during prayers, ceremonies, or meditation sessions to invoke divine blessings. You can also add a pinch to holy water or incense to infuse your surroundings with its sacred aroma.
Embrace the Divine: Allow the captivating aroma of Ashtagandha Chandhana Thilagam to transport you to a realm of spirituality and devotion. Experience the essence of sacred rituals and elevate your spiritual journey with this cherished offering by Viha Online.
Youtube Link For Ashtagandha Chandhana Thilagam : https://www.youtube.com/watch?v=SnTLQM9mf6c
Ashtagandha
Very good fragrance, good quality.
Asthagandha chandanam
This product very nice mam.thank you .
neatly packed I received from your shop.
I want this ashtakandha sandhanam
How will I get ashtakandha sandhanam?
Ashtagandha Sandhanam
Hope for a Positive Changes and Improvements Madam thanks a lot Madam
Astakantha thilakam
Anitha mam super product it's smells amazing feel so good thank you for the product.