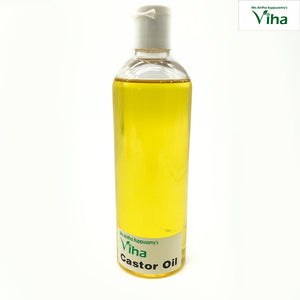 Castor oil has been used for centuries as a natural remedy for various ailments. It is rich in fatty acids and has many health benefits, including promoting hair growth, reducing inflammation, and improving digestion. Learn about the uses and health benefits of castor oil and experience its natural healing power today.
Castor oil has many uses and health benefits, including:
Promoting Hair Growth: Castor oil is rich in ricinoleic acid, which helps stimulate hair growth and prevent hair loss.

Reducing Inflammation: The anti-inflammatory properties of castor oil make it an effective treatment for conditions such as arthritis, joint pain, and muscle soreness.

Improving Digestion: Castor oil can help promote regular bowel movements and relieve constipation, making it a natural remedy for digestive issues.

Healing Wounds: Castor oil has antibacterial and antifungal properties that can help prevent infections and promote healing of wounds.

Moisturizing the Skin: The fatty acids in castor oil help to moisturize and hydrate the skin, leaving it feeling soft and smooth.
Castor oil can be used topically or taken internally, depending on the intended use. It is often used as a natural remedy for various ailments, such as dry skin, eczema, and acne. It is also commonly used in hair care products to promote hair growth and reduce hair loss.
Quantity - 200 ml
Good Buy
Its a genuine product, i keep buying every month. Thanks for giving it in a untainted quality mam.
Good
Its really good.thanks for your product mam.