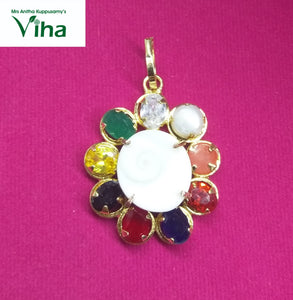 It is an amalgam of the nine most precious gemstones with embossed "SHREE YANTRA" in middle which collectively tends to develop the powers of spiritual healing & Rituals from ancient times. The mystical tradition of wearing the nine gems with Shree Yantra, linked to the nine planets & Goddess Lakshmi which is said to bring great rise in all aspects of life to the Wearer.
Material - White Metal with 22cts Gold plating
Stones - All Semiprecious/Imitation Stones
Handcrafted.
pradeepa
can we wear this with thali kodi can u pls clarify mam
White metal means..... Will it's color turns white after few days of use????
Plzzzz clarify my doubt..... I wish to but
Divya Navaratna Gomathi Chakra Pendant
Can this be worn for a 9 year old girl? Does it matter what natchathiram or raasi she is?
Also does this need to be washed separately or can it be worn 24x7 as a pendant?
please help
you have specified as semi-precious / imitation. does it work? can we get original? is it advisable
????
Navarathna gomathi chakram ring erikidha?Allam rashikum podalaama?
Only pendant available, ma'am. It can be worn by anyone.