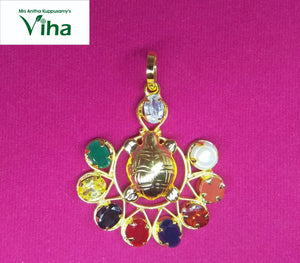 It is an amalgam of the nine most precious gemstones with embossed "SHREE YANTRA" in middle which collectively tends to develop the powers of spritual healing & Rituals from ancient times. The mystical tradition of wearing the nine gems with SHREE YANTRA, linked to the nine planets & Goddess Lakshmi which is said to bring great Rise in all aspects of life to the Wearer.
Features:-
Material=White Metal with 22cts Gold plating
Stones = All Semiprecious/Immitation Stones
Handcrafted in india
மகாலட்சுமி தாயாருக்குரிய ஸ்ரீ யந்திரத்தை மையமாக வைத்து தரமான நவரத்தினங்கள் கொண்டு வடிவமைக்கப்பட்ட இந்த டாலர் அணிந்து கொள்வதனால் வாழ்க்கையில் நல்க மாற்றங்கள்,ஏற்றங்கள் ஏற்படும்.
Navarathna amai dollar
Pls I want that madam...when u post here Mam?
Crystal turtle
I want that tortoise navarathna dollar ...