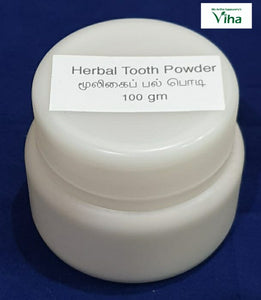 Elevate your oral care routine with our Herbal Tooth Powder, a natural and holistic approach to dental health. Crafted with a blend of carefully selected herbs and ingredients, this tooth powder offers a multitude of benefits for your gums, teeth, and overall oral hygiene.
Key Features of our Herbal Tooth Powder:
1. Natural Healing: Our Herbal Tooth Powder harnesses the power of nature to promote gum health and dental wellness. The combination of therapeutic herbs and ingredients works synergistically to provide relief from gum inflammation, strengthen gums, and promote healthy oral tissues.
2. Fresh Breath: Say goodbye to bad breath with our Herbal Tooth Powder. The natural ingredients effectively combat the bacteria that cause mouth odor, leaving your breath feeling fresh and rejuvenated throughout the day.
3. Teeth Whitening: Restore the natural brightness of your teeth with our tooth powder. It gently polishes the tooth enamel, removing surface stains and discoloration, revealing a brighter and healthier smile.
4. Chemical-Free Formula: Unlike conventional toothpastes that often contain artificial colors, flavors, and harsh chemicals, our Herbal Tooth Powder is free from any artificial additives. It is a pure and natural alternative that is gentle on your teeth and gums.
5. Oral Hygiene Support: Regular use of our Herbal Tooth Powder helps maintain optimal oral hygiene. It aids in preventing tooth decay, cavities, and gum diseases, providing comprehensive protection for your teeth and gums.
6. Environmentally Friendly: Our Herbal Tooth Powder is not only good for your oral health but also for the environment. It comes in eco-friendly packaging and is free from plastic tubes, reducing waste and promoting sustainability.
Incorporate our Herbal Tooth Powder into your daily oral care routine and experience the transformative benefits of natural ingredients for a healthier and happier smile.
Weight : 100 gram
Sowreeswari
very good product mam I was purchased in past 2 years yours products are awesome mam kindly request you can give tooth paste also it's also portable to use anywhere
Relieves severe teeth pain also
My father had severe tooth pain, tooth decay, and he use to go to doctor to take off the tooth.. Post removal of tooth he use to suffer pain.. He gets fever also... But i bought viha herbal tooth powder... It is God for us! All his tooth decay decreased, now he has no tooth pain, that tooth which was paining came off without pain automatically.... He was praising Anitha maam! 😍🙏 Thank u Anitha maam for your hardwork behind this ....
Excellent result
This tooth powder is really excellent. My mom teeth is pain,bad breath and gums bleeding.After using this tooth powder very good result and freshenes.my all members also using this tooth powder very good and amazing result and freshness for full day....thank you mam.......
Very nice
Hello madam tday I received my parcel... tooth power 4th time vankuren enga Amma ku epo teeth pain varathe ella madam one year ah than nan tooth pain ellama erukenu sollranga..en 5 year old son avanuku athan use pantren..litght ah pain eathum erukamari eruntha avane poidu correct ah viha tooth powder than use pantran...thank u mam thank u soo much....unga products yallame nallaruku...customer care la m nalla response pantranga mam...keep rocking mam