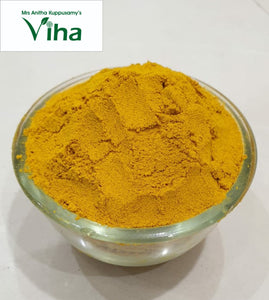 Kasturi Manjal (Wild Turmeric) Powder is a versatile ingredient that can be used in a variety of skincare and beauty applications. Here are some popular uses and recipes:

Face Pack: Mix Kasturi Manjal powder with honey and yogurt to make a nourishing face pack that helps to soothe, exfoliate, and brighten the skin.
Acne Treatment: Combine Kasturi Manjal powder with neem powder, sandalwood powder, and rose water to create a powerful acne-fighting paste that helps to control oil and prevent breakouts.
Hair Removal: Mix Kasturi Manjal powder with gram flour and milk to make a natural hair removal paste. Apply the paste to the desired area and let it dry before gently scrubbing it off with warm water.
Body Scrub: Combine Kasturi Manjal powder with brown sugar and coconut oil to create an invigorating body scrub that helps to exfoliate and moisturize the skin.
In addition to these beauty applications, Kasturi Manjal powder is also used in traditional medicine for its healing properties. It is known to have anti-inflammatory, antiseptic, and antibacterial properties, making it an effective treatment for various skin ailments, including eczema, psoriasis, and acne.
At Viha Online, we offer 100% pure and natural Kasturi Manjal powder that is free from any chemicals or additives. Incorporate this versatile ingredient into your skincare routine or use it in your favorite recipes to experience its numerous benefits.
Kasturi Manjal tones the complexion, reduces pigmentation, dark spots, blemishes, acne and unwanted facial hair. Its antibacterial and antiseptic properties are beneficial to the skin. With regular use, you will find your skin youthful and rejuvenated, while infections are kept away.
How to use: Wild Turmeric is to be mixed with rose water/ raw milk/ yogurt according to your skin type. Make a smooth paste of it and apply it on your skin evenly. Keep it on for 15 - 20 minutes, and wash it off with lukewarm water.
Kasthuri manjal
Nice fragrance and smell.... good face pack.... excellent product...
Kasturi manjal
Very very super original turmeric. Smell and quality is too good