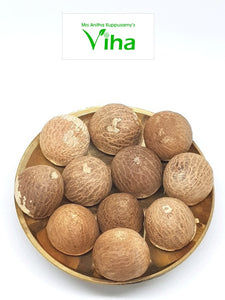 Benefits:
From using it in prayers and religious ceremonies to eating it in the form of a 'paan', with betel leaves and lime.
Dried Betel Nut is stimulant, astringent and taenifuge.
It increases the flow of saliva, sweetens the breath, and strengthens the gums of teeth.
It has beneficial effects on the protection against tooth cavities.
Arecoline is a bio chemical present in Betel Nut may help to reduce sugar level.
Chewing the nut stimulates the flow of saliva to aid digestion. Betel nut also has been used to stimulate the appetite.
Chewing betel nuts helps prevent nausea.
Best price
Pls go for it.... Original one