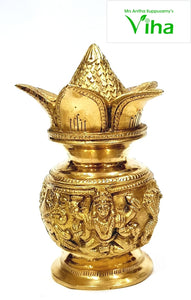 The Purna-Kalasam is considered as symbol of abundance and "source of life" in the Vedas. The Kalasam is believed to contain amrita, the elixir of life, and thus is viewed as a symbol of abundance, wisdom, and immortality. Keep the Kalasam  to bring fullness and prosperity.
Material : Brass, Weight - 1500 gms, Height - 6 Inch.
Kalasam
Hi mam pls share the procedure
Kalasam
பூஜை அறையில் வைத்து உள்ளேன் Good vibration.
Procedure
Mam pls share the procedure for brass pooja kalasam in pooja room.
Purna kalsham
Can you able to ship to Dubai