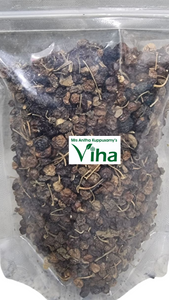 Introducing our Sun Berries Fryums, a nutritious and flavorful addition to your diet. Sun berries, also known as sundakkai or turkey berries, are packed with essential nutrients like riboflavin, calcium, niacin, iron, phosphorous, and Vitamin C. These berries offer numerous health benefits and are a versatile ingredient to incorporate into your meals.
Sun berries are known for their medicinal properties, particularly in treating urinary infections and aiding in constipation relief. They have been used as a natural remedy in traditional medicine for their healing effects on the body. By adding Sun Berries Fryums to your diet, you can enjoy their nutritional value and potential health benefits.
Our Sun Berries Fryums are carefully cleaned and sun-dried to preserve their natural flavors and nutritional properties. They can be enjoyed as a standalone snack or added to various dishes for a burst of flavor and texture. Whether you sprinkle them on salads, mix them into curries, or use them as a topping for rice dishes, Sun Berries Fryums provide a nutritious and tasty element to your meals.
We take pride in offering a product that is not only delicious but also beneficial to your overall well-being. Our Sun Berries Fryums are made with utmost care and attention to ensure the highest quality and flavor.
Incorporate the goodness of sun berries into your diet with our Sun Berries Fryums. Experience the unique taste and reap the nutritional benefits of these remarkable berries. Enhance your meals with a nutritious and flavorful touch.
Weight - 50 Gram