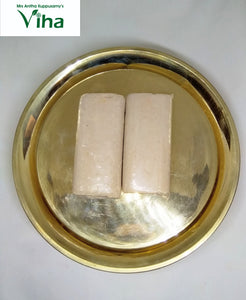 Gopi Chandan: An Essence of Tradition and Spiritual Harmony
Embark on a journey into the heart of tradition with Natural Gopi Chandan, a sacred substance that carries profound significance. This cherished element holds the power to enrich your spiritual practices and elevate your well-being.
Anointing of the Divine:
Gopi Chandan finds its place as a revered tilak on the forehead, creating a serene connection between the physical and spiritual realms. Its touch is believed to bring a cooling effect, soothing the nerves, and fostering a sense of tranquility.
A Guardian of Purity:
With every application, Gopi Chandan weaves a cloak of purity around you. It acts as a shield, guarding against negative energies, malevolent forces, and unsettling dreams. Allow its essence to envelop you in a protective embrace.
Awakening Spiritual Essence:
Gopi Chandan is not just a tilak, but a key to unlocking spiritual dimensions. It activates minor chakras within your being, infusing your existence with spiritual vibrations. Embrace the awakening it offers, and witness the unfolding of inner realms.
Embrace the Tradition, Embrace Your Essence:
As you integrate Gopi Chandan into your rituals, you invite a timeless tradition that resonates with the depths of your being. Let its touch be a reminder of your connection to the sacred, grounding you in the ancient wisdom that flows through time.
To learn more: https://www.youtube.com/watch?v=cIGhiIpIR8o
gopi chandhur
very nice product 👍👍👍 thanks for providing good quality product.
Delicious !
Yes that's right, it smells so yummy. Such a nice smell it gives and sure to give a divine glow on your face when you wear it.
Natural gopi chandan
Loved it mam. Nice product
Divine 😍😍😍😍😍😍😍😍😍
Now only bought the gopi chandan it really aswome. The smell it's really divine full 😍😍😍😍😍🥰🥰🤩🤩