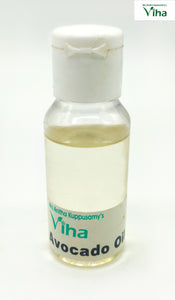 Organic Avocado Oil is a highly versatile and nutrient-rich oil derived from the flesh of organic avocados. At Viha Online, we bring you the finest quality Organic Avocado Oil, carefully sourced from organic farms. Experience the natural richness and nourishing properties of this exceptional oil for a healthier lifestyle.
Nourishing Benefits: Organic Avocado Oil is known for its nourishing properties that support overall well-being. It is rich in monounsaturated fats, vitamin E, antioxidants, and essential nutrients, offering numerous health benefits. Regular consumption of Organic Avocado Oil can promote heart health, improve skin and hair quality, and support a balanced diet.
Culinary Versatility: Organic Avocado Oil is prized in the culinary world for its mild flavor and high smoke point, making it suitable for various cooking methods. Whether you're sautéing, roasting, grilling, or baking, Organic Avocado Oil adds a delicate and buttery taste to your dishes. It complements a wide range of cuisines and can be used in dressings, marinades, dips, and more.
Skin and Hair Care: Organic Avocado Oil is not only beneficial in the kitchen but also a valuable addition to your beauty routine. Its moisturizing properties and high vitamin E content make it a popular ingredient in skincare and haircare products. Incorporating Organic Avocado Oil in your beauty regimen can help nourish and hydrate your skin and promote healthy-looking hair.
Recipe Inspiration: Organic Avocado Oil can be used in various culinary creations:
Salad Dressings: Drizzle Organic Avocado Oil over fresh salads or use it as a base for homemade dressings.

Sautéed Vegetables: Enhance the flavor of sautéed vegetables by using Organic Avocado Oil as a healthy cooking oil.

Grilled Meats and Seafood: Brush Organic Avocado Oil onto meats and seafood before grilling for added moisture and a touch of richness.

Homemade Mayonnaise: Create creamy and homemade mayonnaise using Organic Avocado Oil as a healthier alternative.
At Viha Online, we prioritize the quality and authenticity of our organic products. Our Organic Avocado Oil is sourced from organic avocados and undergoes rigorous testing to ensure its purity and nutritional value. Experience the nourishing benefits and culinary versatility of Organic Avocado Oil with Viha Online.
Weight : 50 ml
Oil doubt
Avocado use panna naracha mudi maraiuma? Or nara mudi maraiya entha oil use pannanum
Avocado oil
Mam avocado oil how to use
Happy
Mam, kindly post a video about avocado oil benefits, very useful for us to use