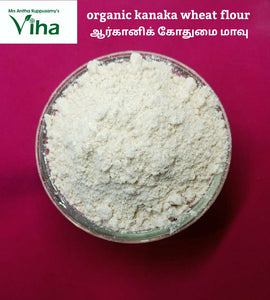 Organic Gluten Free Wheat Flour 
Enriched wheat flour may be a good source of iron, thiamine, niacin, calcium, and vitamin B6, in addition to the above nutrients. Whole wheat may be a decent source of several vitamins and minerals, including selenium, manganese, phosphorus, copper, and folate. Viha's Kanaka Wheat Flour has high fiber content and good for digestion.
Weight - 500 gms
atta | gothumai mavu | godhumai atta 
Query
Is 5kg bag available? My family is big.. u r selling only 500g.. I want large quantity.. pls response mam..