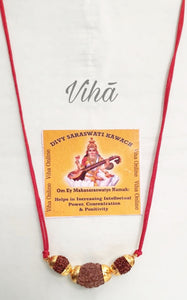 It's meant for wellness of children and students, for their intellectual ability, excellence in education, social skills. Also good for businessmen, company managers, scientists, artists and writers for wit, will power and logical thinking-  Goddess Saraswati ruling planet  
Made of 2 pieces of 5 mukhi rudraksh, 1 piece of 3 mukhi rudraksh with brass cappings. 
Saraswathi kawach
4 Mukhi is for Students
I think it is 4 Mukhi that is used for students. But in contrary to that you mention 2 5 Mukhi and 1 3 Mukhi. What is the proof of this
Saraswatiye ruthraksha
En pillaigal nanrage padikke
Yellow sapphire
Do you got selling this product. Tq
Saraswathy kavasam
En ponnukaga purchase panren mam neenga solra ella visayangalum very useful .....thank you....