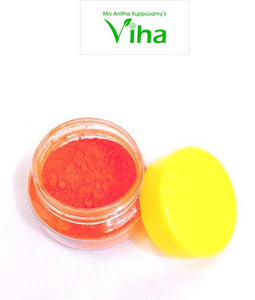 Increase Your Spiritual Connection with Viha's Sendhuram!
Step into a world of sacred significance and divine aura with Viha's Sendhuram. This beautiful and auspicious vermilion powder holds deep spiritual significance in various cultures and traditions, enriching your rituals and practices.
Sacred Symbolism:
Sendhuram, also known as Sindoor or Kumkum, carries symbolic importance in Hindu rituals. It is considered a mark of blessings, prosperity, and marital bliss. When applied with devotion, it enhances the divine connection with the deities and brings auspiciousness to one's life.
Spiritual Vibrancy:
The vibrant red hue of Sendhuram represents passion, strength, and the eternal flame of devotion. It is often used to adorn idols, pictures, and sacred objects during religious ceremonies, infusing them with divine energy.
Sacred Marital Sign:
Sendhuram holds a special place in Hindu weddings, where married women apply it as a sign of their marital status and seek the long-lasting happiness and well-being of their partners.
High-Quality Viha Sendhuram:
Viha's Sendhuram is carefully crafted with premium ingredients, ensuring purity and authenticity. Its fine texture and vibrant color make it a perfect addition to your spiritual practices and rituals.
A Symbol of Love and Devotion:
In every ritual, applying Sendhuram symbolizes deep love, devotion, and reverence to the divine. Experience the sacred aura it brings to your prayers and connect with the spiritual realm.
Weight - 50 grams
Sendhuram
Mam senduram I got it..from your shop.
nice fresh fragrance. Thank you mam
Excellent
No chance.. authentic n divine fragarance.. we can expect this only anitha mam products..
Got goosebumps, feeling like I'm inside thirupathi temple standing near to venkatesa perumal...
Really hanuman should give blessing to all when prayed with this senduram..
Anitha mam's quality will also be good since it does not cause any allergic reaction on my skin..
Thanks to Viha team...
best product
i feel so fresh and positive after applying sendhuram to my forehead...thank you mam...
Senthooram
Best quality. Gives nice feeling when applied unlike other senthooram available in the market.
Google pay
Hi mam...can u pls and the payment method via Google pay for international customers.
For international orders, choose Razorpay option ma'am.