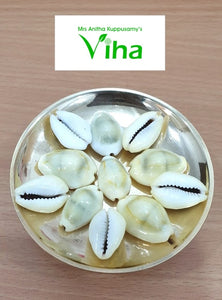 Sozhi is a kind of seeds considered very much beneficial to please goddess Lakshmi. When these seeds are kept at prominent places like workplace, office, pooja place or money box, you are blessed with grace. They are considered very sacred and auspicious. You may place them in your money box, living room, work place or pooja place. It plays a wide role in making the place sacred and auspicious. When you keep it at your accommodation, negative waves go away from you. You are surrounded by the positive waves which keep you safe from the evil eyes.



Mahalakshmi Sozhi reg
Sir
I have a 11 number of Mahalakshmi Sozhi set,
How to buy at online.
Regards
GT Janarthanan.
Mob.no.9787075095
Yellow color sozhi
25A, Kumarapuri colony bharathipuram darmapuri
Sozhi
Viha online shop shipping on malaysia.. ??
When i take a bulk of orders
We u less the product prices???
Yes, we ship to Malaysia. Products are already at their best price, ma'am.
Brown Sozhi
Hi mam, can we use black brown sozhi instead of Mahalaxmi sozhi in 11 porutkhal that hang ouside house.